Testimonials
"I cannot express my gratitude to Amy Thompson, OT for the outstanding job she did on my bilateral hand rehabilitation. As a paramedic with over 20 years of street service, I know the importance of my hands being fully functional. With Amy's help along with the wonderful staff at Renaissance Rehab, I have achieved my goals. Both of my hands feel much better and are functioning without the pain or deficits that required 3 surgeries to correct. I would recommend Renaissance Rehab for any occupational therapy or physical therapy needs."
Tommy G. Rogers, NREMT-P
"On March 3, 2009 our neurologist sent my daughter to a physical therapist, Deron Bland. My daughter's doctor felt that Deron could work with her to bring back some of her left leg movement that she lost in a Multiple Sclerosis relapse. Deron and his staff are wonderful people to their clients and their families. I have never seen my daughter do so much activity as she does for them. She loves them to death. She is mentally handicapped and they know how to work with her to succeed in getting her to do her exercises. They are very gifted people and we are fortunate to have been sent to Renaissance Rehab Center."
Carolyn L.
"After my rotator cuff surgery I was fortunate to find Deron Bland as a physical therapist. I couldn't be more pleased with the care I receive. The facility is clean with state of the art equipment and the staff is professional and friendly. I would definitely recommend Renaissance Rehab Center to anyone needing care."
Ronnie Duplantis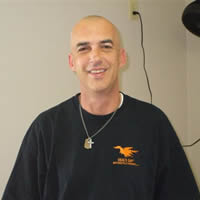 "In December, 2008, I had a fusion performed on my lower back. This was my second surgery. It was a little harder to come back from this time, but with the help of the staff at Renaissance Rehab Center, I feel stronger each and every day after treatment."
Christopher Michel
"I recently had hand surgery and began my occupational therapy at Renaissance Rehab in Houma. After four weeks of therapy, I went to see my surgeon in Kenner, he was so pleased with my progress that he wrote a note to my therapist, Amy Thompson, about the great job she had done. It has been a pleasure to do rehab with a company that put my success first. All the employees are very accommodating and helpful. If something needs to get done they help each other, without question. I strongly believe that success is gained by people working as a team. A special thanks to Amy Thompson and Deron Bland for having a positive outlook as to my future success. I owe the entire staff a very big thanks."
Mark Zeringue
[Printable Version]